Invasion Colchester's History
Simon...
"I launched Invasion Colchester in 2011 as a way to raise money for a very important cause which saved my life...
On the 9 January 2011 I was admitted to Colchester University Hospital with breathing difficulties. Within two days I was on life support due to a complete failure of my lungs and following tests, I was diagnosed with swine flu (H1N1).
On the 14 January my family were informed that there was nothing else that could be done for me and to expect the worst. The only treatment for my condition was called ECMO (Extracorporeal Membrane Oxygenation). This is a process intended for patients whose heart and lungs cannot function normally on their own. Basically, the machine removed blood from my body, then oxygenated and heated it before pumping it back since my lungs were unable to produce any oxygen at all. The ECMO machine can, for up to several weeks, act as an artificial heart and lung. There are very few beds in ECMO Units in the country but I was lucky; later that day a bed became available in Leicester Glenfield Hospital and I was transferred that evening by a specialist team and ambulance.
I remained on the ECMO machine for 12 days during which time I required twenty four hour care from two specialist nurses. I was eventually transferred back to Colchester to continue my recovery at home.
I owe my life to the machine and the specialists that nursed me both in Colchester and Leicester for which I and my family are eternally grateful. I was the fortunate individual out of twenty people requiring the one bed that became available that night and I wanted to show my whole-hearted gratitude by raising funds and awareness for ECMO. There are very few machines available with the specialists required to operate them in this country and I am still hoping to be able to play a small part in rectifying this situation.
Due to the substantial success of the orginal event, a decision was made there and then to continue Invasion Colchester every year, for as long as we can, raising money for additional charities in the process.
So this September please show your support for our very worthy causes, head into town for the day and help us raise some much needed funds. It's going to be a blast!"
- Simon Leonard (Invasion Colchester Founder)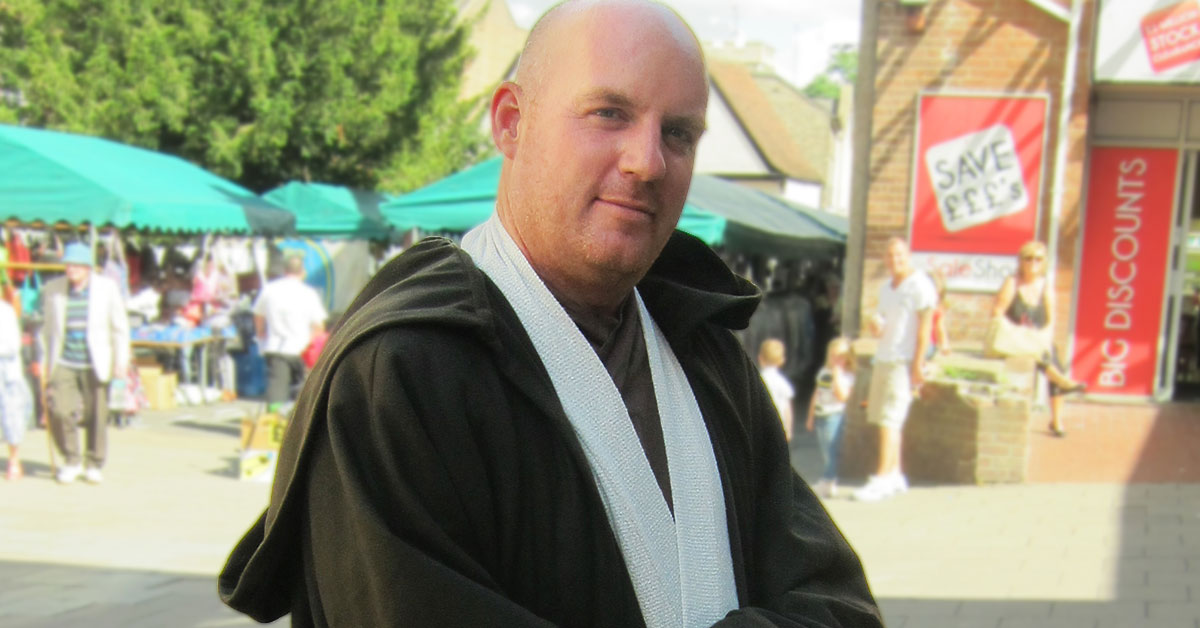 Kerrie...
"Simon brought me onboard with Invasion Colchester very early in the process.
At the time he was still recovering and needed some help coordinating Invasion Colchester, speaking to officials, recruiting costumers and staff, pulling in favours, that kind of thing. Having known Simon for many years, he was well aware of my drive and determination in anything and everything I do, so I guess he saw me as the ideal person to join him at the top. My love of Star Wars and running ACE Comics in Colchester probably helped as well!
From the first year onwards, it never ceases to amaze me how brilliant the people of Colchester and everyone connected with this fabulous event can be. Whereas we used to go around asking for help in the beginning, now I have people contacting me throughout the year offering to support Invasion Colchester in some way. I've formed fantastic releationships not only with our two charities, St Helena Hospice and the Colchester Hosptials Charity, but also with some great folk in local government, town centre management, businesses and other organisations in the area.
Throughout the year I am organising additional funding streams such as artwork auctions and additional collecting opportunities, so it's a pretty full-on position.
The actual day of Invasion Colchester always seems to go a bit crazy, but we manage to pull it off thanks to the huge efforts of those involved. Once it's done, I can't wait to see the totals raised for the year. We have been continually breaking records for amounts raised at Invasion Colchester and for this I am not only incredibly grateful to the general public and businesses that have put their hands in their pockets for us, but also to everyone involved who generously donates their valuable time for free - Invasion Colchester is a not-for-profit event - and makes our event what it is!"
- Kerrie Williams
(Invasion Colchester Event Coordinator)